St. Jude Children's Research Hospital
"Unsure of his life's direction, a young Danny Thomas sought guidance from St. Jude Thaddeus, the patron saint of hopeless causes. If the saint would point to the path he should take, Danny vowed to build a shrine in his name. Success followed Danny's plea and soon after, the legendary entertainer set about fulfilling his vow to St. Jude. The result was St. Jude Children's Research Hospital."
Visit the St. Jude Children's Research Hospital site at https://www.stjude.org/
Arizona Small Dog Rescue
"Arizona Small Dog Rescue is a non profit registered 501(c)3 no kill rescue shelter. We are a group of volunteers who have dedicated our lives to rescuing and saving homeless, unwanted, abandoned, neglected, and abused small dogs and cats too. We save most of our animals from kill shelters around the valley, but also accept owner surrenders and stray surrenders."
Visit the Arizona Small Dog Rescue Organization at http://azsmalldog.org/
People For the Ethical Treatment of Animals
"People for the Ethical Treatment of Animals (PETA) is the largest animal rights organization in the world, with more than 6.5 million members and supporters."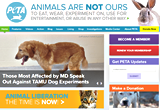 Best Friends Animal Society
"Thirty-three years ago, a group of people made a leap of faith to realize a vision that they had long shared — to create a sanctuary for abandoned and abused animals. Little did they appreciate that their endeavor would catapult them to the forefront of a fledging movement to end the killing of 17 million dogs and cats who were dying in our nation's shelters annually at that time. "
Young Women's Political Leadership Program
"Our flagship program introduces high school girls to the power of political leadership. Women candidates and elected officials speak about what it is like to run as a young woman, how to get involved on a local level, and why it is important to get more women elected. The goal of the program is to encourage the girls to channel their leadership skills into politics."
Visit the YWPL Program at http://runningstartonline.org/programs/ywpl
Search Dog Foundation
"Founded in 1996, the National Disaster Search Dog Foundation (SDF) is a 501(c)(3) non-profit, non-governmental organization based in Ojai, California. Our mission is to strengthen disaster response in America by recruiting rescued dogs and partnering them with firefighters and other first responders to find people buried alive in the wreckage of disasters."